Thousands of additional betting opportunities
With Betradar's eSports betting solutions, bookmakers will increase their portfolio by thousands of fixtures per year and thus diversify their product offer. Betradar provides everything needed for creating and managing any bookmaker's eSports betting offer, meeting the same high quality standards clients expect from us. The collection and maintenance of all sports data is conducted by us, based on official fixtures and schedules delivered by ESL.
Odds Suggestions from Betradar include not only common markets such as 2way, 3way and Totals but also game specific markets such as First Tower, Knife Round Winner or First Round Winner. All markets are compiled in-house by our experienced bookmakers, using Betradar's proprietary mathematical models. Bookmakers can immediately settle their bets as ESL provides all results fast and verified.
Enrich your sportsbook with an immersive product line of non-traditional betting markets and thus attract multiple target groups, from avid gamers to casual player and sports punters.
Videos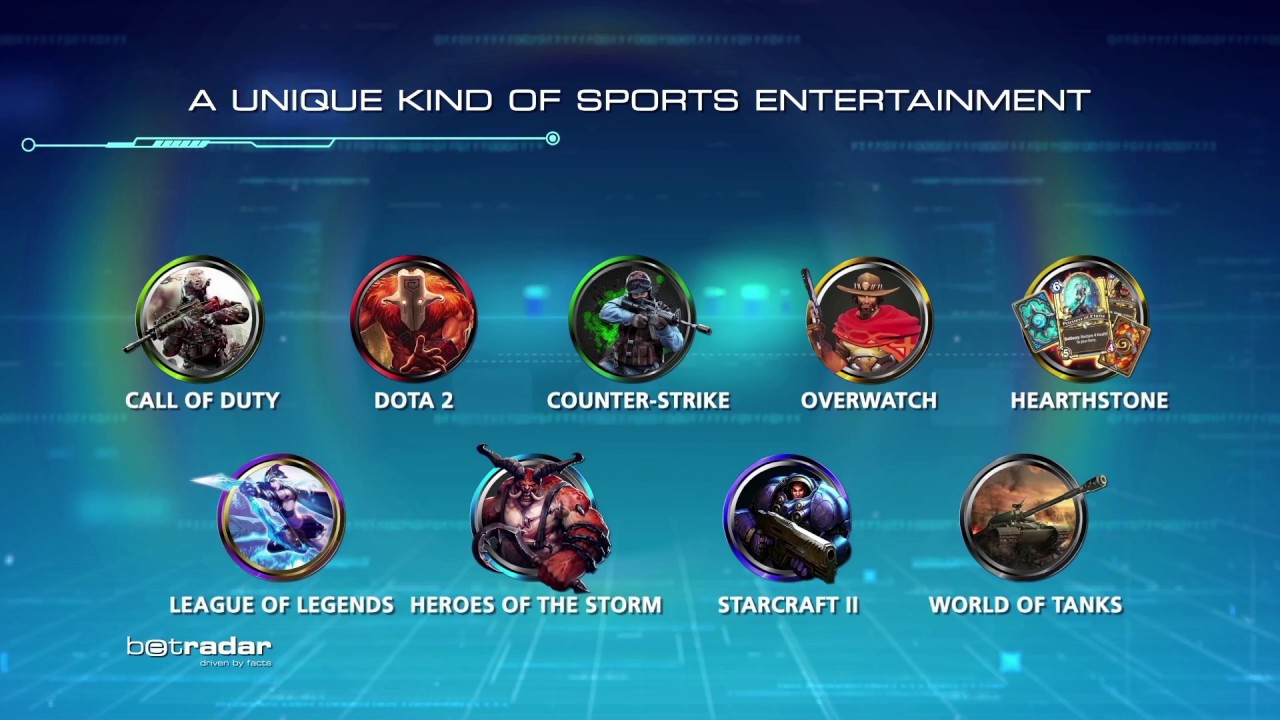 Downloads
Thousands of additional fixtures from the most popular eSports games
Full service portfolio from event creation, odds suggestion, monitoring to resulting
All data provided from ESL – guaranteeing highest reliability and accuracy
Pre-Match and Live Odds markets are compiled in-house by our experienced bookmakers
Verified results delivered in real-time by ESL to directly settle bets
Data available via XML feed for direct integration and end customer use
Let your punters bet on all leading eSports game titles
Trade on an excellent bandwidth of pre-match and live betting markets for all popular eSports titles. In addition to well-known markets such as 2way, totals and handicaps we also offer game-specific markets like "who destroys first inhibitor" or "who picks up first aegis".
Game franchises supported so far
Managed Trading Services – to externalise your in-house trading
Since eSports betting is very new and by its nature differs from regular sports betting, sportsbook operators may lack the necessary in-house expertise to trade their own odds efficiently.
That's why Betradar offers you the opportunity to externalise your entire operational services for the new betting segment. Utilising our Managed Trading Services, which completely manages your daily business including the whole risk management in a fast, efficient and cost-effective manner, you will minimise your financial risks whilst increasing your profitability and freeing up resources.
For more information on our Managed Trading Services click here.
Get in touch with us now!
Our highly-experienced team is pleased to personally deal with your enquiry.